Click below to register as a parishioner of Divine Redeemer
Please take a few minutes to sign up for Parishsoft
My Own Church account. Help us by registering or updating your own parish record, so we can better serve and communicate with you.
Short instructional video on how to register to
My Own Church (below)
Parish Office
926 Farragut Avenue
Colorado Springs, Co 80909
719.633-5559
Fax: 719. 234-0358
Parish
927 North Logan Avenue
Colorado Springs, Co 80909
Weekend Mass
Saturday Vigil– 5:00p.m.
Sunday – 8:00a.m. & 11:00a.m.

Daily Mass
Monday through Friday
8:00a.m..
Church open for prayer until 10:00a.m..

Confessions:
Saturday Confessions
4:00p.m.-4:50p.m..
Wednesday's from
7:00p.m. to 8:00p.m.
Available also by appointment.
Please call the parish office at:
(719) 633-5559
Subscribe to receive updates from Flocknote!
You can also text "redeemer" to 84576 from your cell phone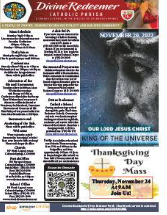 Our Vibrant Bulletin
Delivered Straight to Your Inbox
Subscribe to parishesonline.com to get a link to our bulletin delivered straight to your inbox!
Visit www.parishesonline.com and search for our church to get started today.
It's fast, easy and free!